MP3
hello.mp3
a no one.mp3
blind.mp3
fashion control.mp3
my love paramour.mp3
ombue.mp3
radio agency.mp3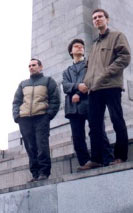 INFORMATION
BLUBA LU
Dimitar Paskalev - guitars, vocals;
Rumen Blagoev - bass guitar, vocals;
Konstantin Katsarski - drums, percussion, vocals;
Hristo Groove - programming, sinth, ets.

HISTORY; The group has existed since1994 under different names and with various musicians. "NOT-YET", "SHANGRY LA" and "PERFECT BLUE".
1998 till now- as "BLUBA LU"

The concept is megamix of different difeerent traditional sound patterns, sampled synthesised and bent by the artists as a backround for their own ideas.
The group is looking for its own image in the playing and processing of soundz.The work in studio is the third final periodin the process of creating music after the concerts and rehearsals.The music is developed in a long concentrated embrionic phase.The lyrics are in english , sanscrit and one abstract language invented by the group.Bluba Lu seeks interaction between its music and the world one .
Last works of the group are experimental flud jazzy beat expression.
Live performances and projects:
06.01 - Bluba Lu In Wonderland - the first album

02.01 - the first single released from yellomusic, emblematicly called YELLOW SUN.

A lot of concerts in O!Shipka club

06 Y2K - NEW WORLD VIBES FESTIVAL along with KORAI OROM /HUNGARY/ and EARTH TRIBE/LONDON/

04.Y2K- the single "RATAKAM" was included in a rare CD compilation for modern Bulgarian music NEW RHYTHM .

BLUBA LU participated in the second round of the "SOUND OF PASSPORT" CONTEST.

fundation of YELLOMUSIC STUDIO

RECORDING OF AN UNFINISHED PROJECT IN "SILVIA RECORDS" SOFIA

03.Y2K-"MUSIC AND FILM FEST" - Live

02.Y2K - ONE YEAR YELLO MUSIC - Live

Appearance in the MC album of YELLO MUSIC

SUB FEST - 1999 - Live

08.12.1998 -"HRISTO BOTEV" Hall-concert

Promotion Live for YELLO MUSIC